Strategic asset allocation
We build portfolios over a strategic horizon and dynamically tilt the asset mix based on the expected evolution of the business cycle and tactical views.  Portfolios are constructed based only on the objectives and constraints of our clients.
Strategic asset allocation re-imagined
Based on client portfolio objectives and constraints we:
identify the betas or market risks that offer superior risk adjusted returns and analyse the time horizon (strategic vs tactical);
identify the required level of alpha to generate the required rate of return which determines the optimal type of the investment vehicle (passive or active);
evaluate the liquidity format of investment vehicles (listed securities through to private market vehicles) versus the expected alpha, based on the expected time horizon of the investment opportunity;
analyse the total cost of ownership (total fees and costs) for the chosen investment vehicle vs the expected alpha and the level of expected net return.
The process combines qualitative and quantitative analysis and screens investment opportunities across all asset classes which meet the client's investment objectives.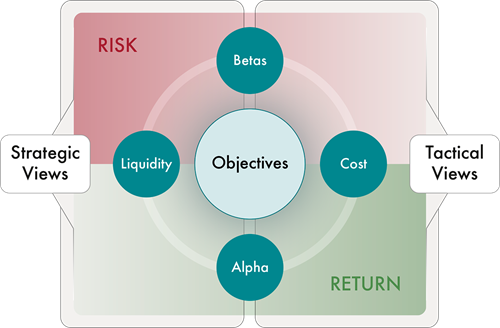 Related insights and articles
CdR Capital insights: Bursting bubbles
"During the gold rush, it's a good time to be in the pick and shovel business."
With some semblance of 'normality' starting to return, what does that mean for speculative bubbles? 
Bursting Bubbles
Investment 2021 from FT Money
The prospects and pitfalls of investing in a post-pandemic world.  FT Money's experts pick out promising trends and causes for concern
Read article on FT.com
NY Times viewpoints on asset allocation
Collated views and insights on asset allocation from the writers at NY Times. 
Read articles on NYTIMES.com