Psychedelics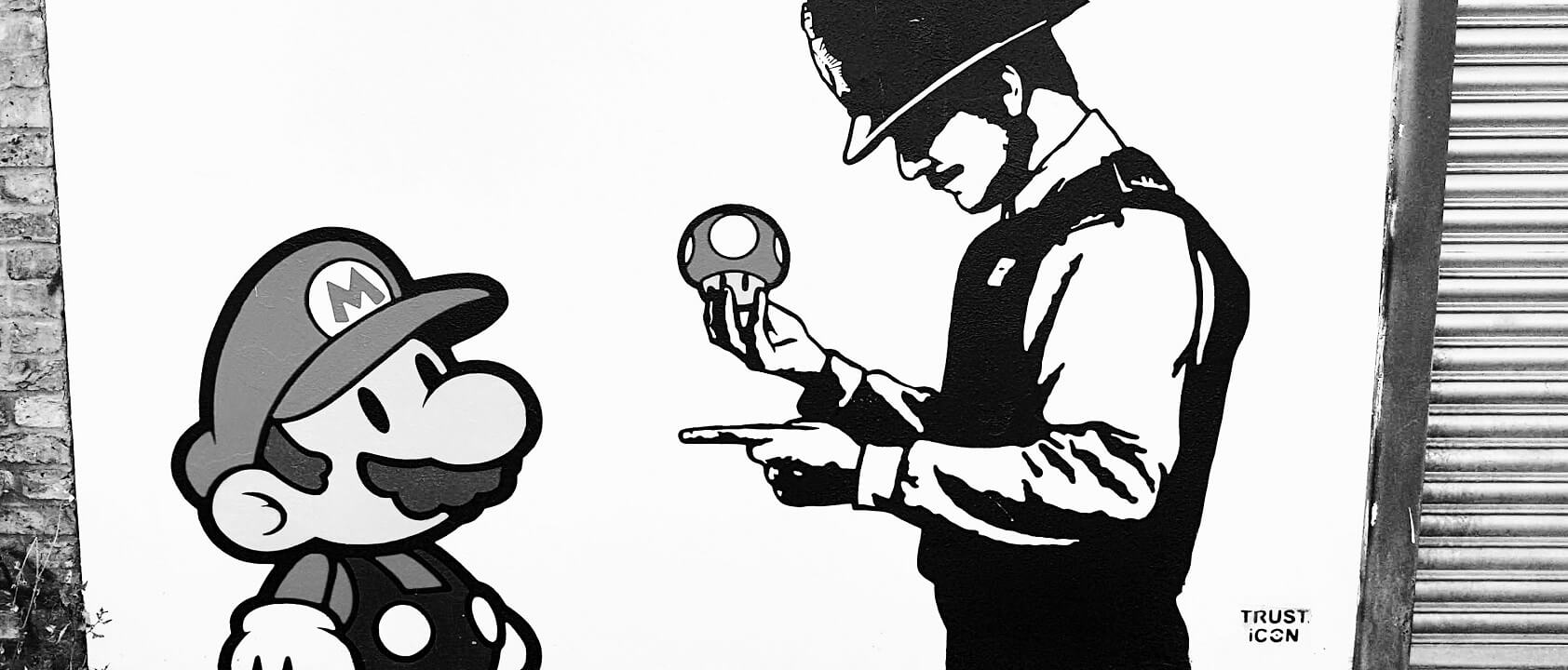 How High?
"Before you're five or so you're tripping all of the time" – Michael Pollan
Mens sana in corpore sano. Roman poet Juvenal's phrase 'a healthy mind in a healthy body' is widely used  in sporting and educational contexts. But as the pandemic subsides and our collective body returns to health, our mental state is in tatters. Princes of England talk openly about their traumas and every thinking C-suiter has their coach or guide.
Times Square is currently making history by hosting the first-ever psychedelic billboard campaign in the US. The aim of the #CelebratePlantMedicine campaign is an attempt to fuel a conversation about healing with plant medicines. Could psychedelics be the humanity-saving solution we've been looking for?
Venture capitalists certainly seem to think that psychoactive substances are the next big thing, with former hedge fund manager Michael Novogratz¹ predicting they are already on their way to being a short term bubble. Meanwhile, Vogue journalists see them as the next wellness fad.
After almost two years of pandemic-enhanced psychological distress, depression and anxiety have skyrocketed, disproportionately hitting young adults. An epidemic of loneliness. But is traditional therapy going to be enough for what is clearly an escalating problem?
Could micro-dosing plant medicines, alongside therapy, be part of the cure? Most of the current research on psychoactive substances is, indeed, related to whether or not they can support traditional psychotherapy for mental health issues.
It's ironic because it was Timothy Leary, a clinical psychologist at Harvard University dubbed the father of 'set and setting' theory—a cornerstone of today's psychedelics-aided therapy—who  prompted the criminalisation of both psilocybin, the hallucinogenic 'active' ingredient in magic mushrooms, and lysergic acid diethylamide (LSD).
Early research suggests that ketamine, already used to treat depression (and for which the US Food and Drug Administration approved Johnson & Johnson's Spravato a ketamine-like nasal spray), may be considered a "valid and intriguing antidepressant option" for the therapy of treatment-resistant depression.
Meanwhile, boxing legend Mike Tyson thinks the answer to depression lies in magic mushrooms. And researchers at the Centre for Psychedelic Research at Imperial College London, agree. They recently concluded that psilocybin is at least as effective as a leading antidepressant medication in a therapeutic setting. This, echoes similar work by researchers at Johns Hopkins Medicine.
Not only that, but in the new Center for Psychedelic and Consciousness Research  at Johns Hopkins Medicine, researchers will be testing the psychological effects of psilocybin with respect to anorexia nervosa, which affects 24 million in the US alone.
The magic ingredient in certain mushrooms helps with the anxiety that a large proportion of patients with eating disorders suffer from, while the anti-inflammatory properties of LSD may help with Alzheimer's Disease. With dementia affecting some 55 million people now and estimated to reach 78 million by 2030, micro-dosing psychoactive substances is being explored.
Anyone who watched last year's Netflix documentary Have a Good Trip: Adventures in Psychedelics, will have seen that beyond the laughs, the therapeutic potential of hallucinogens to treat anxiety and substance abuse was mentioned. According to Michael Pollan, author of How to Change Your Mind, "psychedelics help you out of the rut".
There is, however, a business case here too, and big pharma knows it. The psychedelic drugs market size is projected to reach $10.75 billion by 2027, from $4.75 billion in 2020 growing at a CAGR of 12.36% during 2021-2027.
According to the World Health Organisation, close to one billion people are living with a mental disorder; three million people die every year from the harmful use of alcohol; and one person dies every 40 seconds by suicide. Moreover, some 30% of people with treated major depressive disorder are defined as having treatment-resistant depression.
From an economic perspective, according to The Lancet Commission 2018 report on Global Mental Health and Sustainable Development, more than 12 billion working days are lost globally due to mental health conditions each year. This will cost the global economy $16 trillion in lost economic output between 2011 and 2030; more than cancer, diabetes, and respiratory diseases combined.
To include mental health in the Sustainable Development Goals (SDGs) means it needs to be recognised as an issue relevant to every sector of development. And, according to the Lancet commission's report, every $1 invested in mental health conditions such as depression yields a return of $3 to $5. Invested correctly, just $2 per capita could extend mental health care to nearly half of the population living with mental illness in low- and middle-income countries.
Another irony in the story of psychedelics is that many of the countries defined as low to middle income are also home to plant medicines, which could solve many of the developed world's problems. For example, ibogaine found in Africa is used to cure opioid addiction, after Howard Lotsof and Norma Alexander discovered its potential to wipe out his heroin habit.
Meanwhile North American Indians use mescaline, found in the peyote cactus, to treat alcoholism; and in South America, the Amazonian ceremonial communities use ayahuasca, a plant compound containing N, N-dimethyltryptamine (DMT), an endogenous hallucinogen, for many different 'mental' ailments including eating disorders.
Right now, however, it is the wide ranging clinical potential of psilocybin in 'shrooms', first isolated by Albert Hofmann in 1957 from the Central American mushroom PsilocybeMexicana, which has the investment community most excited.
Peter Thiel, co-founder of PayPal and Palantir Technologies, has stakes in Compass Pathways, a psychedelics drug company that went public with a market capitalisation of $1 billion at launch; and Atai Life Sciences, the German psychedelics start-up whose market capitalisation was $3.19 billion when it went live on Nasdaq in June.
Compass Pathways, which also counts Novogratz, ex Fortress Investment Group fund manager as a backer, has filed for a number of patents for synthetic versions of psilocybin and mental health treatment procedures; two of which have been granted.
The move has triggered fears of a monopoly in the psychedelic therapy market that will define what it will cost, and, therefore, who will have access to it. Psilocybin is a natural compound so it cannot be patented, although how it is made and used, can be.
Also an investable stock, and part of the Noetic Fund's portfolio, is MindMed, which boasts investors such as Shark Tank star Kevin O'Leary and Toms Shoes founder Blake Mycoskie, is looking at treatments with an ibogaine derivative called 18-MC, psilocybin, LSD, DMT and MDMA.
Steve Cohen's Point 72 hedge fund is also an investor in MindMed, but perhaps more importantly for the development of therapeutic psychedelics, the Steven & Alexandra Cohen Foundation has invested nearly $12 million in psychedelic projects.
Among their investments is the Multidisciplinary Association for Psychedelic Studies (MAPS), which has seen $30 million in donations in six months from donors such as Bob Parsons, billionaire founder of GoDaddy.
A recent MDMA-assisted psychotherapy study for post-traumatic stress disorder (PTSD) found a 60% success rate, and two-thirds of the 91 participants no longer met the criteria for PTSD, and MAPS plans to conduct a Phase 3 trial on MDMA, popularly known as Ecstasy or Molly, to treat this particular disorder.
Tim Ferriss, podcaster and author of The 4-Hour Workweek, has been behind both the fund raising for the Multidisciplinary Association for Psychedelic Studies and the new Johns Hopkins centre, explaining that he is driven by "macro reasons but also deeply personal ones". In an interview with The New York Times², Ferriss refers to the loss of a friend to a fentanyl overdose, bipolar disorder in the family and his own treatment-resistant depression.
But before psychedelics go on any trip towards mainstream, they need both an image overhaul and to be legalised. The former is precisely the aim of the Times Square campaign run by DoubleBlind Magazine, the psychedelic magazine, Honeysuckle Magazine, which ran the first cannabis bill boards also in Times Square, Musings Magazine and Rainbo Mushrooms.
More than that, Pollen and Ferriss, who teamed up to launch the $800,000 UC Berkeley Psychedelic Journalism Fellowship, believe that journalists play an important role in educating the public about how psychedelics can help in a variety of unmet medical needs.
With respect to deregulation, psilocybin was decriminalised in Denver in May 2019, with the cities of Oakland and Santa Cruz in California, following suit. Most recently, Seattle has become the largest city in the US to decriminalise 'entheogens', drugs like psilocybin and ayahuasca that are often used for spiritual or religious purposes, while Oregon has become the first US state to legalise magic mushroom therapy.
From a mental health point of view these are all promising moves. But for an investor, as we have seen with Marijuana, decriminalisation and state legalisation is good but these sectors will never 'perform' well until the Federal laws change, psychedelic companies can do all the activities of normal companies. For now, the main returns will be in the private markets and crystalised by an IPO. After that it's just one way down until the Federal law changes.
That said, legalised psychedelic-assisted therapy is the first step towards the renaissance of plant medicines that have been the healing tools of shamans and medicine men for centuries. Dig deeper and psychedelics have played a part in the beginnings of some modern religions, notably the soma drink of the Brahmans of South Asia and the ergot fungus in potions that gave Greek gods their 'power' (and led to Hoffman's synthesis of LSD in 1938).
Investments in psychedelic stocks, funds or ETFs might form a bubble, but that does not mean they are not a new frontier in mental healthcare. Recreational 'legal' psychedelics might be a longer time coming but there is now a hotline for unplanned trips, according to Rolling Stone magazine.
When Steve Jobs died, a Twitter user wrote: "You touched an ugly world of technology and made it beautiful." But Apple was not inspired by the educational halls of fame Jobs frequented, but by his inner journeys with LSD and meditation, and physically through India.
While the pandemic may have made physical trips to healing retreats in Peru and India harder, it's a beguiling notion that ayahuasca ceremonies in the Middle East have the potential for conflict resolution and long term peace-building. As Elvis Costello sang, "(What's So Funny 'Bout) Peace, Love and Understanding"? 
Photo: © Niki Natarajan 2018
Artist: Trusticon 
¹ Famed investor Michael Novogratz said psychedelics will be the next 'short-term bubble' after cannabis, Business Insider (30.1.2020)
² Tim Ferriss, the Man Who Put His Money Behind Psychedelic Medicine, The New York Times (6.9.2019)
Article for information only. All content is created and published by CdR Capital SA. The views and opinions expressed in this article are those of the author(s). Information on this website is only directed at professional, institutional or qualified investors and is not suitable for retail investors. None of the material contained on this website is intended to constitute an offer to sell, or an invitation or solicitation of an offer to buy any product or service. Nothing in this website, or article, should be construed as investment, tax, legal or other advice.