Social Fabric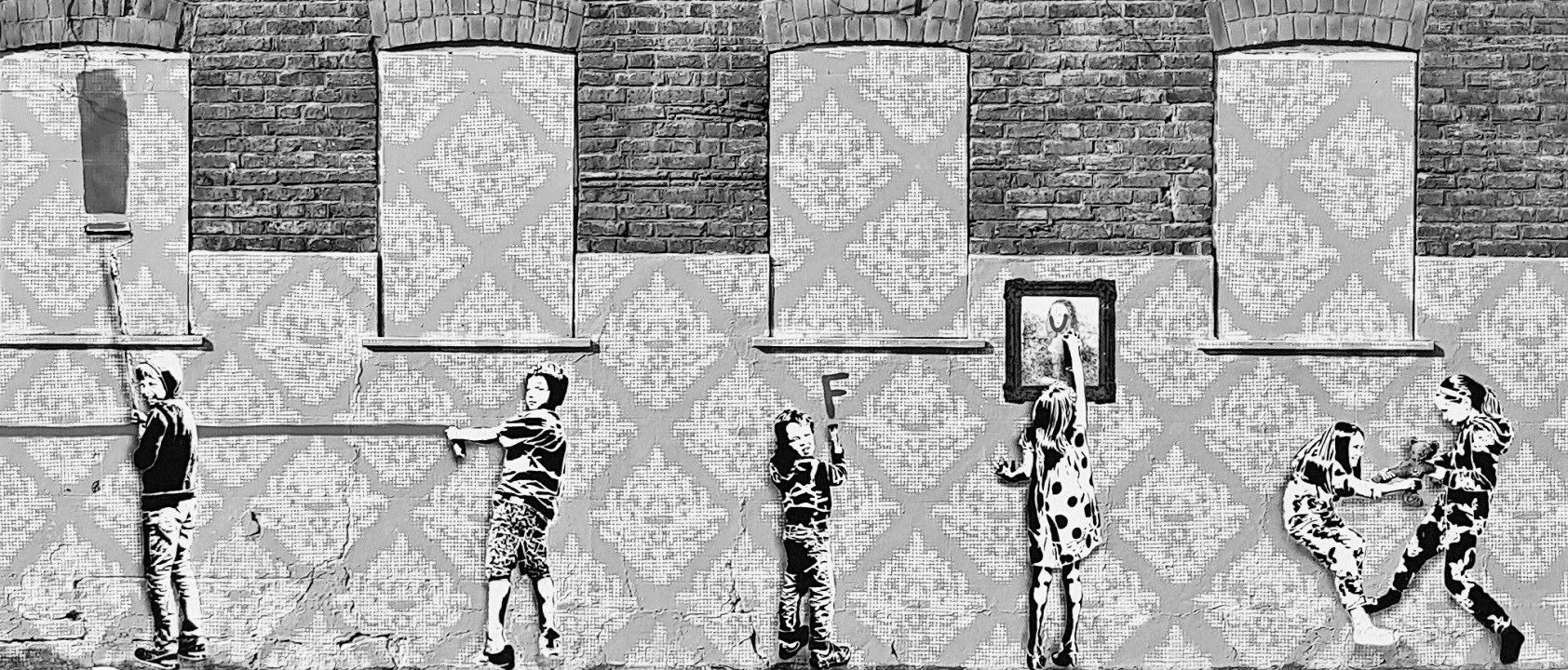 Age of Incivility
"Graffiti is beautiful; like a brick in the face of a cop" ― Hunter Thompson
Beautifully efficient high-speed French TGV trains showcase thoughtfully designed cartoon posters instructing you how to help a little old lady to get her luggage into the overhead rack. When you arrive in Paris, however, a variety of app-controlled scooters, pushbikes and mono cycles threatened the same old lady as they whizz from all angles along the same pavement along which she is tottering.
There are no signs saying that this is not permitted. Therefore, the assumption is that it's OK.
In banking compliance parlance, 'rules of the road' are those that you abide by when travelling. But what are the rules of the actual road in London when you attempt to cross a pedestrian crossing in Westminster?
Today, you are lucky if you barely miss death from a peloton of uber-righteous cyclists, not all of whom, surely, can be elected officials angling for the Green vote. The pedestrian death toll is increasing and following the death of Kim Briggs by cyclist Charlie Alliston, the Department of Transport is currently considering a 'death by dangerous cycling' law.
And there you have it. We live in an age where civil behaviour has to be instructed because, without government command, 'society' is lost in a whirlwind of competing social desires. Cyclists stop for no one or nothing, convinced of their moral superiority.
Lupine youths swagger out of their ghettos, scanning faces for any sign of 'disrespect' and the police are portrayed as just another gang in films and TV series such as Line of Duty.
Political discourse is becoming more and more uncivil and incivility is winning elections. UK Prime Minister Theresa May started 2018 by saying " I worry that our public debate today is coarsening. That for some it is becoming harder to disagree, without also demeaning opposing viewpoints in the process". Electorates are turning to the mouthy pub boor, rather than the statesperson.
The Queen's 2018 Christmas Day message ended the year by calling for respect and civility: "Even with the most deeply held differences, treating the other person with respect and as a fellow human being is always a good first step towards greater understanding".
At all levels, local, national and international, uncivil behaviour is on display. Compare and contrast, for example, Donald Trump's advice in Vanity Fair on how to seduce women to that of Jair Bolsonaro, rounding on one of his female adversaries. #EleNao (#NotHim) was not just about politics. "It is about morals" tweeted actress Deborah Secco to her 3.4 million followers.
Before his death, Senator John McCain, appealed for civility and humility to return. "Among its other virtues, humility makes for more productive politics. If it vanishes entirely, we will tear our society apart," he said. At his funeral, the White House dithered whether or not to lower the flag in respect.
Social media is not only giving everyone a voice, but also amplifying the differences. We live in a world where false What's App messages about kidnappings resulted in the lynching of seven innocent people in India, or where genocide in Myanmar is incited on Facebook.
Chamath Palihapitiya, a former Facebook executive, has been vocal about the harm the social network is doing to civil society. "The short-term, dopamine-driven feedback loops we've created are destroying how society works," he told an audience at Stanford Graduate School of Business.  "No civil discourse, no cooperation; misinformation, mistruth. And it's not an American problem — this is not about Russians ads. This is a global problem".
We live in an age of 'disruption'. Not only is social media giving everyone a voice, but it has disrupted the notion of community. Perhaps we are only now feeling the full force of this. Amazon has put most of the high street out of business.
America's malls are no different. There are about 1,100 malls in the US today, but a quarter of them are at risk of closing over the next five years, according to estimates from Credit Suisse. Only out of town 'destinations' with too-big-to-post goods and fun-for-the-family seem immune.
Even Wall Street is not spared from disruption. Look at Spotify and Slack, by-passing the banks for the direct listing process instead of IPOs.
Government by focus-group has led to the inevitable direct appeal to voters and thus the blunt force trauma of the national referendum - where the uniformed and ill-informed (on all sides) express their instincts rather than their judgement.
Britain's Brexit process has long ago descended into an UnCivil War or as the TV drama's playwright James Graham said. "It was an angry, shouty, violent, toxic, awful way to conduct politics".
But all is not lost.
Seen through the lens of charity, civil society, in the UK at least, is pausing, but not yet in free fall. With 64% of people taking part in charitable activities, participation remains high and the overall amount given to charity in 2018 remains largely the same as 2017 at £10.1billion.
In Blueprint: The Evolutionary Origins of a Good Society, Nicholas Christakis, the Yale University professor explains how our genetic makeup can help us to at least survive, if not reverse, an environmental, political and social apocalypse.
In the US, self-made billionaires like financier George Soros, Chris Hughes, a Facebook co-founder, and Abigail Disney, heir to the film making empire, all recently signed an open letter to all presidential contenders that refers to a plan offered by Senator Elizabeth Warren of Massachusetts.
Warren's proposal would create a wealth tax for households with $50 million or more in assets —some 75,000 families—that would raise $2.75 trillion over 10 years.
Society may have broken down with a loss of trust in traditional authority and institutions over the last decade. The twin beliefs in Church and State that held 'society' united are shattered and public trust in politicians is at all-time lows everywhere.
But basic human principles of social solidarity and self-help have not completely disappeared. In an irrevocably globalised world, civility is more important than it has ever been.
Perhaps China's Social Credit System might be just the solution. Infractions such as bad driving or posting fake news online are penalised by, for example, being banned from travelling. While good behaviour gets you more matches on online dating sites, lower energy bills and better interest rates.
The danger is that capitalism is no longer trusted to allocate capital fairly. And as money becomes increasingly digital, and faith in all else is disrupted, why should we continue to believe in government-controlled 'fiat' currencies?
There's a reason that gold has broken resistance and Bitcoin is up to a high of $12,935 on 26 June, its highest level in a year, storming back towards its 2017 peak of $19,000.
And that reason is far deeper and more insidious that merely inflation.
Photo: © Niki Natarajan 2018
Artist: Dotmasters
Article for information only. All content is created and published by CdR Capital SA. The views and opinions expressed in this article are those of the author(s). Information on this website is only directed at professional, institutional or qualified investors and is not suitable for retail investors. None of the material contained on this website is intended to constitute an offer to sell, or an invitation or solicitation of an offer to buy any product or service. Nothing in this website, or article, should be construed as investment, tax, legal or other advice.